Now the poultry farming project in Ghana is hot, it is the golden age of poultry farming development. More and more poultry farmers are choosing battery cage systems in Ghana to develop projects. But how to buy a suitable poultry chicken cages?
There are many different sizes and types of battery cages on the market. In fact, it is best to choose a chicken coop that is suitable for your poultry farm.
You can choose the right battery cage based on the weight and size of your poultry and the climate in your country. For example, 1.5KG and 2.5KG require different size layer cages. The lifespan of a laying hen of the same quality can vary greatly in hot and cool weather. There are large and small spaces, and if the area is large, you can choose A-type chicken cages or H-type chicken cages. So layer cage price in Ghana is not the only consideration.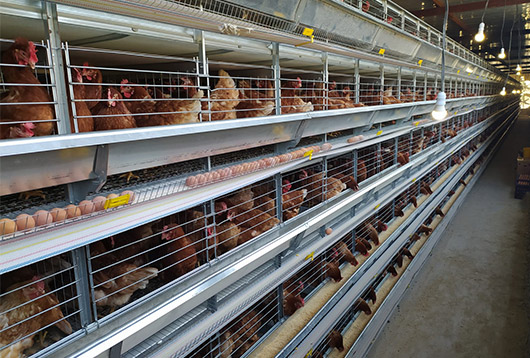 How to choose the poultry farming equipment you need in Ghana?
If you have less than 2000 chickens, we recommend that you only buy poultry cages. The drinking system is automated, but workers manually feed the chickens, collect eggs, and remove manure.
If you have 5,000 - 10,000 chickens, we recommend that you purchase a manure removal machine with a battery box. By removing feces in a timely manner, you can reduce the likelihood of disease, increase egg production, and save more time and labor costs. The scraper type manure remover is the most economical one. A semi-automatic chicken feeder also requires this number of chickens. It is small and cheap automatic chicken feeder, and because it uses a battery cage, you will avoid the inconvenience of power failure. You can feed 10,000 chickens in half an hour and save a lot of labor.
If you have more than 10,000 laying hens, you may need fully automatic equipment including battery chicken cages for sale, automatic chicken feeders, automatic egg collectors, and manure shovels (automatic manure removal systems). If your operation is larger than 50,000 chickens, you will need a feed silo. For fewer than 50,000 chickens, you can use just one screw conveyor to deliver the food to the hopper.
If you want to build a closed system, you need to know that exhaust fans and cooling pads are necessary items of environmental control equipment. If you are using an open system and the weather is hot, you can use an atomizer.